About Wheaton Family Chiropractic
Delivering quality chiropractic care since 2002.
Dr. Mark Myers has worked as a Chiropractor since 2002, and established Wheaton Family Chiropractic in 2007. "My wife, Julie graduated from Wheaton College and we both loved the area," states Dr. Myers.
The Chiropractor who educates his patients about true health and healing
Our goal at Wheaton Family Chiropractic is to educate our patients about true health and healing, as well as help them express it and inform others in the community so they too can reach their God-given potential. By spreading this message we will make a difference in our town, our state, our country, and across the world.
When you come into our office you become a part of our family, and we are here to support and encourage you so you can see your dreams become a reality. "I see myself as a health coach," states Dr. Myers. I have taken a lot of what I have learned over my lifetime in how to achieve true health and healing.
The patients who get the best results are the ones who are ready to get better
As an experienced Chiropractor Dr. Myers has observed that the patients who get the best results are the ones who are ready to get better. These patients will follow the steps we lay out very clearly in our office and amazingly when they follow the plan they see amazing results. These patients often are so excited they have their entire family under care as well because they understand the value of healing and functioning at their God-given potential. One will find out in life when you or a loved one loses your health you would do anything to get it back. These patients see that and would do anything to keep it. When patients come ready to soak up everything they can at all of our workshops and will change whatever they need to, they will see amazing results.
Our approach is simple. We believe that health is among our most valuable possessions. And while we generally meet people after they've lost their health, our commitment is two-fold: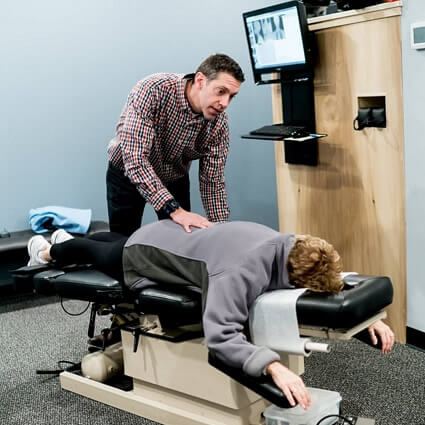 Our goal is to correct the spine as fast as possible to help your body heal from the inside out. We don't just treat symptoms, but have specific training on how correct everything from spinal misalignments to scoliosis. We specialize in spinal correction to help your nervous system run and coordinate all health and healing in the body like God intended. During this initial stage of intensive care, we have several obligations:
Uncover the underlying cause of the health problem
Suggest a care plan to produce the fastest results possible
Offer ways patient can participate in their recovery
Explain the value of post-symptomatic wellness care
We empower our patients to achieve the highest levels of health they can. Through our monthly health workshops and educational opportunities like this website, we hope to communicate the value of ongoing chiropractic care. Our desire is to see our practice members abandon the prevailing sickness care model of health (waiting for symptoms and then taking action), in favor of the maximized living model.
As a Chiropractor we would love to see a community where healthy, vibrant and energetic people were the norm; Where hospitals were a place that were only seldom visited for traumas and emergencies. Where people truly respected the power God put inside of them for health and healing and they worked with that power and not against it. By this way of living we can see people of all ages reach their God-given potential.
Sound interesting? Please contact our office to make an appointment.

About Wheaton Family Chiropractic | (630) 868-8480