Meet Dr. Mark Myers
Chiropractic changed the course of my family's life…
My passion for health started at a young age reading nutrition books in Junior High. I did reports in High School on the powerful effects on Alternative Medicine. Then my sister was diagnosed with scoliosis and I saw the side effects on how that affected her health and daily functions.
She was the first in our family to go to a chiropractor and got amazing relief when no other doctor could help. That is when I knew I wanted to be a chiropractor. The rest of my family started care as a result of seeing her life change. Now as a chiropractor I have been able to help thousands of other patients get amazing results like my family has achieved in their health.
Chiropractic Education
Dr. Myers began his pre-chiropractic education at Indiana-Purdue at Fort Wayne, Indiana where he studied pre-med. After completing his courses there, Dr. Myers received his Bachelor of Science in Human Biology.
He then completed a five-year program at National College of Chiropractic in Lombard, Illinois to get his Doctor of Chiropractic degree. In 2002, Dr. Myers established his Wheaton chiropractic office.
Spinal Correction and Care
"As a chiropractor I take a personal responsibility for the health and wellness of the people in my community. My desire is to help families achieve maximized living through cutting edge spinal correction and care. I have a burden for those who are sick, suffering and dying around me and I am on a mission to get them and their families well." Dr. Myers' approach to chiropractic care is radically different than most. He believes in the chiropractic lifestyle. This includes correction, restoration and maintenance of spinal curves as well as nutrition, exercise, and time and stress management. The most important changes are from the inside out, not the outside in.
Dr. Myers' mission is to help spread the message of health and healing to his town, state, country and all over the world. In 2009 he traveled to the South Pacific Islands of Vanuatu where he taught 5 workshops on some of the most remote islands of the world and adjusted over 500 people on his visit there.
CHIROPRACTIC CARE »
Dr. Myers has additional training and certifications in the following:
Extremity Adjusting and Gait Analysis
Pettibon Fundamentals of the Spine and Posture Correction
Pettibon X-ray Analysis and Fundamentals
Pettibon Soft tissue Clinic Protocols and Home Care
Pettibon Pediatrics
Pettibon Scoliosis Correction
Maximized Living Customized Supplementation and Diet
Maximized Living Biotoxic and Neurotoxic Analysis and Protocols
Maximized Living Certified Nutrition and Detoxification Provider
Maximized Living Quality Nutrition Certification
Maximized Living-Max Nerve Supply Certification Award
Exemplary Commitment Award from the Maximized Living Wellness Advisory Council 2010
Clear Institute Scoliosis and Spinal Correction Part I, II, and III.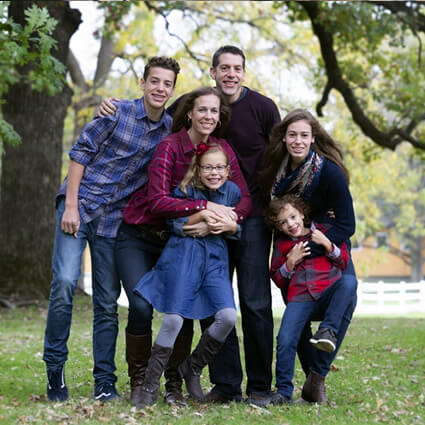 Dr. Mark has been happily married to Julie since 2000, and they have four children, Hayley, Westen, Jaida, and Ashton who were all adjusted after birth. Their most recent child was born at home with a midwife present. None of the children have ever been vaccinated or received drugs or antibiotics. If that sounds interesting, be sure to ask Dr. Mark about it!
Dr. Mark is an avid cyclist and loves fitness. He also enjoys martial arts, reading, throwing boomerangs, playing at the park with his kids, family bike rides and outings, and inspiring movies. "Our whole family looks forward to getting adjusted every week," says his wife, Julie. "We're constantly trying to live the chiropractic lifestyle by making small changes in our diet and exercise programs everyday. We're learning more all the time." Dr. Myers and his family are also very involved in their local church.
Dr. Myers continues to work with high school, college, professional, and Olympic athletes in his spare time. Dr. Myers has a Martial Arts background and holds a second degree black belt in Tae Kwon Do. This passion for martial arts has been a great fit in traveling all over to help keep professional martial artists healthy and active, and performing at their best. Dr. Myers was the chiropractor for the World Martial Arts games in 2010.
Get Started Today
Thank you for visiting our site. I look forward to meeting you and helping you and your family reach your God-given potential. Give our office a call, or email me using the link below.

Dr. Mark Myers | (630) 868-8480