Regular Visits
Wheaton Family Chiropractic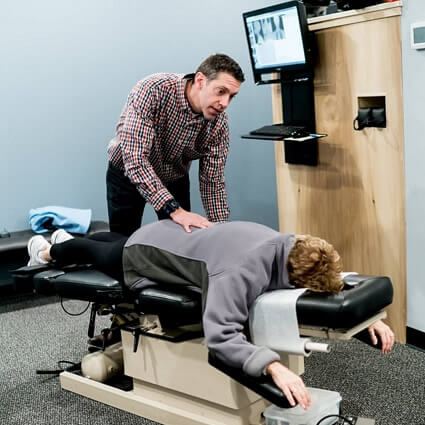 A typical visit at our office can be completed in as little as 5-35 minutes depending on what type of care you decide to proceed with.
State-of-the-art Technology
We use state-of-the-art technology here at our office, so when you arrive for your regular office visits we will check you in electronically at the front desk with your barcode card, which will bring up your health history and X-rays for the doctor to see on a large computer screen before he adjusts you.
Spinal Warm-up Exercises
Next, you will perform some spinal warm-up exercises (these may be different for each patient). You will enter the adjustment bay, and scan your barcode card into the computer in the adjusting room, which pulls up your file with your X-rays and history.
Adjustment
You will then be adjusted by Wheaton Chiropractor, Dr. Myers. After the adjustment, some patients will perform some corrective exercises, which helps to strengthen the muscles around the spine and promotes optimum health. There are only a handful of doctors in the U.S. who do this type of corrective work.
We also work with patients with scoliosis to help straighten their spine and reduce their curves without bracing or surgery. Once the patient has completed these steps, they are done with their regular appointment in the office.

Regular Visits at Wheaton Family Chiropractic | (630) 868-8480